Silver Price Chart and Technical Analysis – XAGUSD Spot Metal
Silver, just like Gold is also considered as a safe haven commodity that can be used just like Gold to store of value in times of Economic Recession. Silver is considered to be a precious metal in the same category as Gold. Although not as valuable as Gold, it is the second metal most valuable after Gold, Even if the its price is not as high as that of Gold, the demand for it is as high as the demand of Gold.
NB: 1 point movement for Spot Silver is equal to $100 dollars per lot, unlike 1 pip for currencies which is equal to $10 dollars per lot. Therefore, when the price for this spot metal moves 1 pip, a trader makes $100 dollars, but the leverage and margin required for this 1 lot of this commodity is equal to that of 1 lot of currencies.

Ancient times silver and gold coins used to be the currency for buying items; now in foreign exchange market these metals are becoming more popular in the online market, where it is transacted as a commodity, as options or futures.
Silver as a precious metal has also gained a lot of popularity among currency traders and speculators as an alternative investment instrument for hedging currency trades. Gold prices have also been trending due to enough liquidity buying and selling this precious metal. The trending of prices of this commodity whether up or down has attracted currency speculators who now have added this spot metal to their portfolio. Most brokers now provide it as an instrument within their platform.
USA traders cannot transact silver and gold as a leveraged products, this is according to some law that restricts trading spot metals using leverage; however, they can only use 1:1 leverage, which means no leverage. (USA brokers do not provide this as a leveraged product)
Technical Analysis
Silver Technical Analysis in Recession Time
This precious metal is used as the second option in keeping value as a safe haven commodity after Gold.
For example in the chart below, the prices of this commodity started Moving up after the economic recession of 2008 started. The prices at the time were averaging $9 dollars per Ounce of Silver. Then the traders started to buy and accumulate value in terms of Silver contracts driving the price for the next few months a total of 39 dollars, the value of this commodity moved from the value of $10 dollars per Ounce up to $49.7 dollars per ounce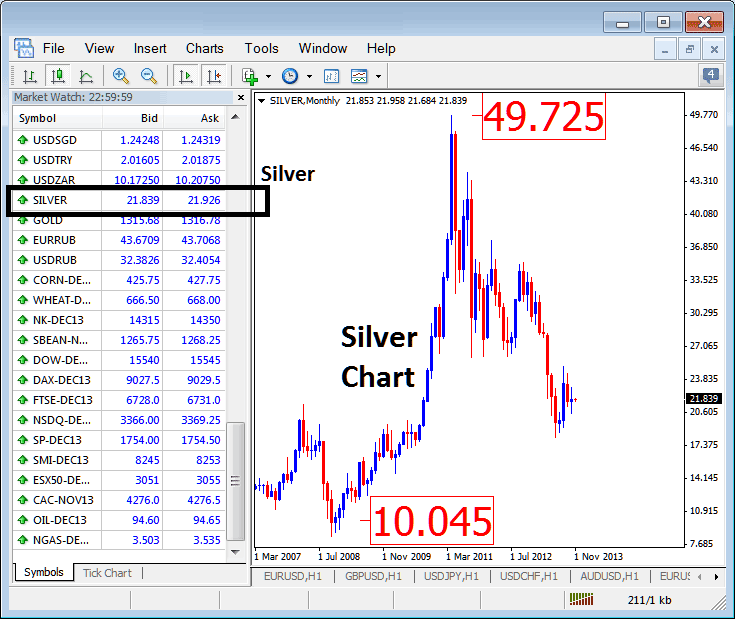 XAGUSD Technical Analysis
The Price of this spot metal moved up in Recession gaining 39 dollars as investors fled from the stock market, sold shares, sold currency contracts to invest their money into this precious metal which is a Safe Haven commodity after Gold used to store Value.
Silver Technical Analysis in Economic Boom Time
After the Economies of the world started to show signs of economic recovery and a bit of Growth, investors immediately started to close their silver trades so as to start investing this money in higher yielding instruments such as currencies, stocks and Shares. This Why the Shares in Major Stock Markets Started to gain value as people felt with the economic recovery they should close the Silver Contracts, Silver is a lower profit yielding Instrument compared to currencies, shares and stocks which have a higher profit yield and give the best value in times of economic growth and there is also less risk of holding these currencies, shares and stocks when the economies are growing; this is because economic growth always supports these securities gaining value as there is more business opportunities and business growth for companies that own these shares.
On the chart below soon after signs of economic growth the prices of this commodity moved from a high of $49 dollars to a low of $18 dollars and continue to move lower as the economic growth continues.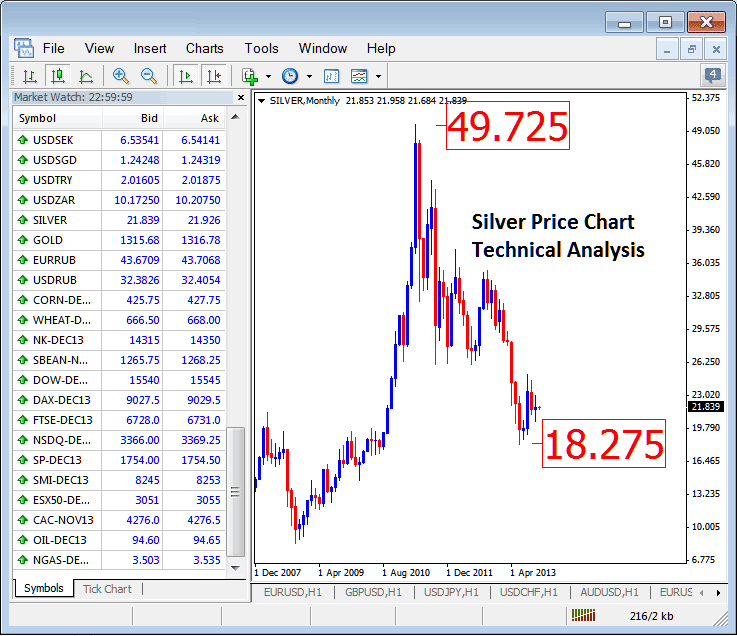 XAGUSD Monthly Chart

XAGUSD - As a Spot Metal Commodity
Silver commodity has attracted a lot of speculators and most brokers now provide this commodity as one of the financial instruments on their platforms.
In the online market, this commodity is traded as a Spot Metal. Price is quoted in terms of the US Dollar, therefore just like currency pairs, this commodity is also transacted as a pair, the pair is marked as XAG/USD or XAGUSD which means the quote price per Ounce of Silver quoted in US Dollars.
Therefore, on your Forex platform, for example "MetaTrader 4 Market Watch", the Symbol will be marked as XAGUSD. Some Brokers will also Mark it simply by its own name.
Contracts
Silver contracts are also the preferred method of trading this commodity metal because if you have the same amount of this precious metal in your home, chances are that it would be hard to find a buyer, and the buyer may give a lower price if you find one and therefore it will be very difficult to liquidate your Silver. But for Contracts transacted in the online spot market, there are always people willing to buy or to sell at the current price at any given time. Making spot trading this metal even more popular because of this liquidity.