Gold Price Chart and Technical Analysis – XAUUSD Spot Metal Trading
Gold Technical Analysis
Gold trading is becoming more popular as an alternate investment option and most currency brokers now provide this spot metal as one of the financial instruments within their platform.
NB: 1 point movement for Gold is equal to $100 dollars per lot, unlike 1 Pip for Currencies which is equal to $10 dollars per lot. The amount of capital required to buy the two being the same in terms of margin and contract.

Gold is used by many investors as a hedge instrument to hedge some of the currency trades. Traders may decide to include this spot metal as part of their investment portfolio when trading currencies in the market. Gold being a precious metal attracts a lot of investors especially in the recent time where its prices have been trending just in the same way as the market trends of currencies. Speculators now find this a good financial instrument to speculate and make profits from.
All over the world, Gold is used to store value, major central banks will keep it as reserves in their vaults and these reserves are used to back the value of their currencies. Due to these reserves held by major central banks and governments, most traders also prefer to buy this precious metal and keep value in the form of gold as opposed to keeping value in cash in times of economic recession. This is because in recession time the prices of this metal keep rising as more investors rush to buy it and keep the value of their assets in this form.
NB: Americans cannot trade this spot metal as a leveraged product, this is according to some American law that restricts trading spot metals as leverage, however, USA traders can still trade this commodity using 1:1 leverage, which is basically means no leverage.
Gold Trading and Recession
In recession time, Gold is bought by traders to keep their value in its form, therefore referred to as a safe haven. Traders keep value in its form instead of cash because in times of recession cash money may also lose value.
Because many traders rush to buy gold during this recession time, the price of this commodity will keep moving up and up.
For Example during the economic recession of 2008, Prices of this metal kept moving up and moved from $710 dollars to $1915 dollars per Ounce. The Dollar prices moved a total of more than $1,200 gaining a lot of value during the economic recession time.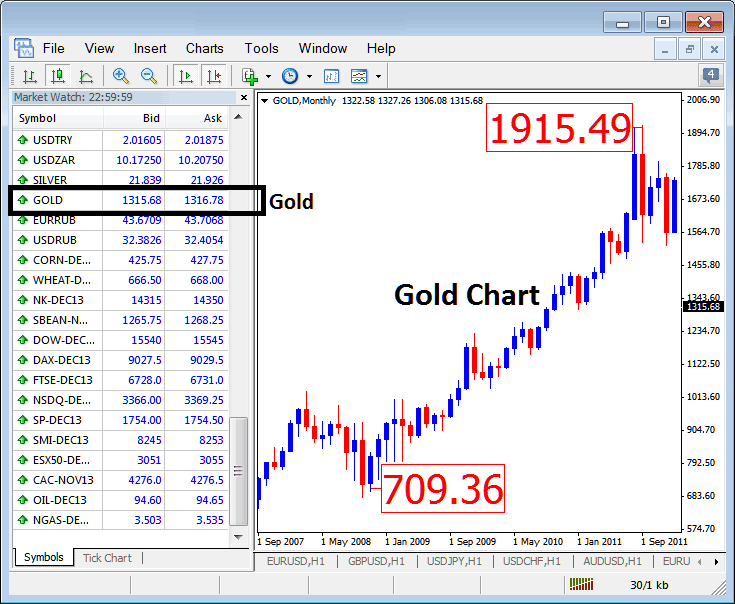 XAUUSD Price Chart and Technical Analysis of XAUUSD Spot Metal


The XAUUSD prices moved up gaining more than $1,200 dollars in value because investors who were holding cash, currencies, stocks, shares, indices, futures and other trading instruments sold these instruments and bought gold, because it is a safe haven commodity which means it the safest commodity to hold during times of economic recession.

Gold Trading and Economic Boom Time
Gold is a safe haven commodity, which gains a lot of value during recession time, however as a trader you may think that because prices kept moving up, they will continue moving up and up all the time. But that is not so.
In times of Economic Boom, cash, currencies, stocks, shares, indices, futures and other financial instruments all have a higher profit yield than Gold. Therefore investors will prefer to sell this metal and now buy these other financial instruments. Even in recession time these instruments still had more yield, but because of recession these instruments were more risky to have them in your portfolio. But now that there is economic boom all over the globe, then these instruments have less risk when added to your investment portfolio. Therefore, buying these instruments at low risk and getting a higher yield more than that of Gold at the Economic Boom Time is what majority traders will do.
This means that in times of market boom the price of this precious metal will go lower as more investors sell it in favor of moving their money to higher yielding trading instruments.
After the Economic Recession, There was a recovery around 2011 and 2012, even though the recovery was just starting, traders immediately started to sell Gold contracts in favor of buying stocks and shares. As the prices kept moving down the Dow Jones Index kept moving up showing that stocks were gaining value.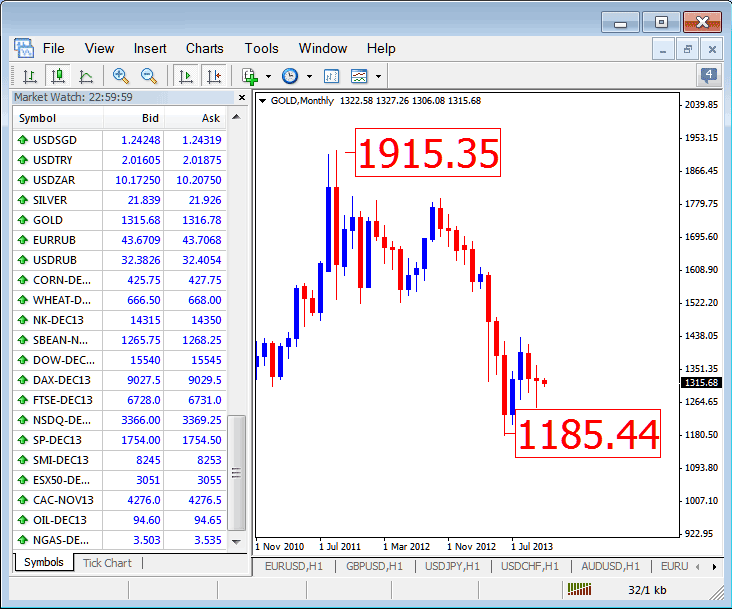 XAUUSD Trend Price Chart - Monthly Chart Prices Trend Analysis
The XAUUSD Price trend direction started to move down after traders started to sell Gold in Favor of higher yielding currencies and assets. The price during this time of economic recovery moved from $1,915 dollars to a low of $1,185 dollars meaning that prices had moved down a total of $730 dollars as traders favored moving their money to other higher yielding currencies, stocks, shares and futures.
XAUUSD Technical Analysis
For The daily trend a trader will have to analyze the short term market trends cycles on the 1 hour chart and daily charts, but also consider the fact that gold price is also heavily influenced by economic sentiments as shown in the above examples.
However, because of increased volatility and increased priced movement of its prices, this spot metal is now gaining a lot of popularity in the Exchange market attracting tons of speculators, this popularity has also led to many broker to add this spot metal to their list of their provided financial instruments.
Also note 1 pip movement for one contract of XAUUSD is equal to $100 dollars not $10 dollars as it is for currency pairs.
Traded as a Spot Metal in Forex, Price is quoted in terms of the US Dollar, therefore just like currency pairs, this commodity is also traded as a pair, marked as XAU/USD or XAUUSD which means the quote price per Ounce of Gold quoted in US Dollars.
Therefore, on your Forex platform, for example MetaTrader 4 Market Watch, the Pair will be Marked as XAUUSD. Some Brokers will also Mark it simply using its name.
Trading as Contracts
Gold Contracts are also the preferred method of trading this commodity because if you have the same amount of this precious metal in your home, chances are that it would be hard to find a buyer, and the buyer may give a lower price if you find one and it will be very difficult to liquidate your Gold. But for spot contracts traded in the Online Spot Exchange Market, There are always people willing to buy or to sell at the current price at any given time. Making Spot trading this metal even more popular because of this liquidity.