How to Write a Good Forex Plan - Written Example Template
The following is a template example of a forex trading plan:
Download The  Forex Trading Plan
JUSTIFICATION

1. TRADING IS A BUSINESS, SUCCESSFUL BUSINESSES ALWAYS HAVE PLANS
Businesses that are successful always start with a plan.
Successful business planning will guide you to success, think of it as a map; it is a constant reminder of how you will consistently pull profits from the currency market.
Difference between a successful trader and a losing one is the plan.
2. TO KEEP ME IN THE RIGHT DIRECTION
Consistency is important in your routine to measure how successful you are.
Keep you on target, read it everyday and stick to it.
When it comes to your plan you should think of it as a map that shows you this is what you follow, it should have clear rules that specify when you open or close a transaction.
Your plan should cover all aspects of currency trading, you should read it everyday until it is on your fingertips so that when you are transacting on the fast moving market of foreign currency exchange you will always know what to do in every situation.
Your plan can be as simple or as complicated as you like, but the most important thing is that you have one. By having a one you have an advantage over the market, you will have better odds of making a profit than those who do not have one.
This tutorial topic provides with an example template that you can use for creating your own. By now you have already written down the justification part of your business template, If not get a pen and paper and write the justification part. Next we shall look at how to write the system.
Forex plan is one of the secrets that can help you to improve your profits. A good currency training guide like this one should show you how to come up with one using a template which you can use as an example to develop your own.
One of the most common question is, Is Forex profitable? one of the methods to make it profitable is to have a good plan.
IF YOU HAVE A GOOD BUSINESS PLAN AND YOU ARE DISCIPLINED ENOUGH TO STICK TO IT YOU WILL BE SUCCESSFUL.
GOALS OF THE SYSTEM
Ability to IDENTIFY A TREND AS EARLY AS POSSIBLE .
Ability to AVOID WHIPSAWS .
The system should find a compromise between the two Goals,
Find a way to identify a currency trend as early as possible but also find ways to help you distinguish the fake signals from the real ones.
FUNCTIONS OF EACH INDICATOR
MA - Identify a new trend as early as possible.
MACD - Identify a trend as early as possible.
Determine strength of a continuing trend.
RSI - Swing failure to confirm the start of a new trend.
Extra confirmation tools to help determine the strength of our trend.
Parabolic SAR - Help to ensure that we are not caught up on the wrong side of the trend.
Trend Lines - Signals a reversal when the line is broken
Price Action Signals - confirm the weakening of a trend.
Bollinger Bands - for price action study
To learn more about each indicator and how these indicators can be used to generate signal setups you can go to the Technical Indicators Section
TIME FRAMES
Main time frame is the 1H.
Signals are generated on the 15 minute time frame.
15 Minutes Charts
Trend Lines (Support&Resistance)
5 & 7 LWMA
RSI (14)
Bollinger Bands (20, 2)
RULES
LONG ENTRY
Entry
15 Minutes Charts

Both MAs are moving UP
MACD moving UP
RSI > 50
Parabolic SAR is below the price (Support)
When signal is generated on the 1 Hour Chart, use the 15 minute chart time frame to open and close positions.
LONG EXIT
RSI gives opposite signal
Price breaks Support Trend Line
Parabolic SAR is hit (Trailing Stop)
RULES
SHORT ENTRY
Entry
15 Minutes Charts
Both MAs are moving DOWN
MACD moving DOWN
RSI < 50
Parabolic SAR is above the price (Support)
When signal is generated on the 1 Hour Chart, use the 15 minute chart time frame to open and close positions.
SHORT EXIT
RSI gives opposite signal
Price action breaks Support Trend Line
Parabolic SAR is hit (Trailing Stop)
ROUTINE
Signals are generated using 1H time frame and executed using the 15 minute chart time frame.
Signal to be executed immediately rules are met.
Entry alert signals should be executed during daytime.
TIME OF DAY TO WATCH MARKET - MARKET HOURS

Watch market during daytime when most companies and online currency brokers are open for transactions. Use this to come up with a suitable program.
Example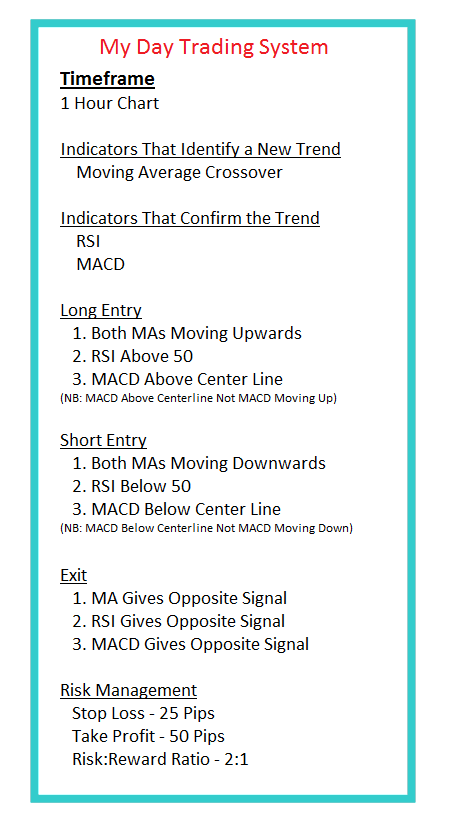 Tips - You can use the MT4 Platform Software to save this as a template that way you do not have to lay it afresh every time you open a new currency chart. If you want to learn how to save a template on the MT4, read: MT4 Platform Tutorials.
MONEY MANAGEMENT
Day trading - Low risk High return method
Trade when I have a high risk to reward ratio 3:1 or more
Stop loss = Parabolic SAR
Set TP target 40-60 Pips
Never transact beyond 3 % of account equity
Never risk more than 2 % on a single transaction
MINDSET/PSYCHOLOGY
Trade without Emotions (greed, fear, anticipation, impulse, bias, over-excitement)
I trade what my eyes see not what I feel.
I will be patient.
My job is not to be the trading system!
It is not to decide which signal looks promising.
That is the job of my system - which has a set of rules which tells me this is what I follow. Do not get caught up in price action and make rules as you go along.
MY JOB DESCRIPTION IS
To sit patiently and wait for my strategy to indicate that it is time to enter or it is time to exit. And then with great focus I execute the plan as outlined.
Taking trades not indicated by the system, second guessing it and not taking signals given, hesitating and getting in late, anticipating and getting in early are all common place and boil down to lack of faith in the plan and not having a burning focus on accurate execution.
GOAL: To have 100% undivided focus on mastering my ability to execute my Forex rules accurately.
The more you develop the ability to step back from price movement and watch the market dispassionately, waiting for a signal, the easier it will be to witness the fluctuations of your emotions without getting sucked into them allowing them to throw you off your game.
WEAKNESS
I am greedy.
I over-trade
Make a list of all your weaknesses that are interfering with your trading. This is the first step to help you overcome these weaknesses. Use Forex psychology to help you overcome them.
NB: by writing down your weaknesses you will start recognizing them as you make progress, once you do this you will start to avoid this mistakes and your results will improve.
GOALS
To focus on exit just as much as I do on entry signals.
Always protect my account using stop loss, money management methods, follow with the trend direction and always following the rules of my strategy.
Never second guess or go against my strategy.
To always keep up my discipline.
Follow all the rules of my FX strategy and never break them.
Transact fewer times and execute all my signals correctly.
Trade what I see, what the system + currency charts are telling me.
Sit patiently and wait for signals from my strategy.
Achieve consistent profitable results before opening a live account.
FOLLOW THIS SYSTEM
This is the most important part of creating the system.
Always follow the rules
Stick with the rules
Be disciplined and patient enough
FOREX JOURNAL
Log all my transactions in a journal so as to track my training progress and improve my currency execution methods.
The strategy uses momentum to determine the trend of any currency pair.
Even if you are new to Foreign exchange market and you do not know how a system looks like, this example illustrates to you how a profitable Forex strategy should look like, the FX tutorials explained in other sections of this training website will also explain further the different aspects that you need to learn.
Hence, the aim is to help you come up with your own complete strategy that is if you are looking for one, by showing you one that is already complete. In fact you can just use it as it is, or make a few adjustments so that it suits your style.
The aim is to help you improve your profits by using a plan that is profitable, and another advantage is that this plan will offer you a chance to improve your knowledge and it will help you trade better, make more pips and keep them so that you do not keep giving them back to the foreign exchange market.
Shave Months Off Your Learning Curve: Start Making Profits Right Now whether you're a beginner or a seasoned professional! Read this training tutorial about developing one of your own, along with the courses and FX strategies listed at the top of this tutorial.
The Most Beneficial part of using this template is the "Money Management Part" you will learn how to transact currencies with minimum risk, which is the most important thing when it comes to the foreign exchange market.